Slideshow
Other top rated products
Filter Reviews
5 star rating

4 star rating

3 star rating

2 star rating

1 star rating
Jennifer B.
5 star rating
Great Gifts!
Review by Jennifer B. on 28 Apr 2018
review stating Great Gifts!
Bought and sent several different Homesick Candles to various family members and they loved them!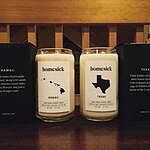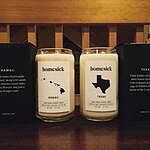 Homesick in Maryland
Review by Felecia B. on 27 May 2020
review stating Homesick in Maryland
I purchase this candle (Dallas) for my daughter who now lives in Maryland but is from Dallas and she absolutely loves it! It was especially hard for her this Mother's Day because of the COVID 19 pandemic she couldn't risk coming home to Dallas,Texas. So, your candle was the next best thing!
Thank you and forever grateful!
Dallas Native Approved.
Review by Emily E. on 6 May 2020
review stating Dallas Native Approved.
I've lived in and around Dallas all my life, and I can 100% say this smells like an elegant lobby at a Frost Bank in East Dallas - in a good way. Or a Neighborhood Services restaurant booth. OH OH or a whiff of the inside of a new Cadillac waiting in the valet line at Uchi. The rich leather smell is so spot-on, I almost cried. I bought this candle to have on my desk while sheltering in place because I missed my city so much, and it helped.
Great candles!!
Review by Mattie L. on 30 Apr 2020
review stating Great candles!!
Sent one to my coworker who moved to Austin and he ordered 2 more because he loved them so much!!
Gave to my Son for
Review by Linda D. on 3 Feb 2020
review stating Gave to my Son for
Gave to my Son for Christmas. He Loved it, will definitely purchase from you again and will recommend you to everyone. Candle came quick and wrapped so well.