Slideshow
Other top rated products
Filter Reviews
5 star rating

4 star rating

3 star rating

2 star rating

1 star rating
Someone ♡'s you in Kansas...
Review by Faith H. on 23 Aug 2019
review stating Someone ♡'s you in Kansas...
I recently lost my Grams and she was like a mom to me more than a Grandmother. My Auntie, came from South Carolina for the funeral. She went through her items tirelessly and made for certain everything was in order. We are very close and she needed something to remind her of home. She sent me a picture and absolutely loved it!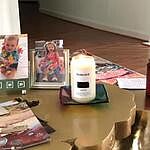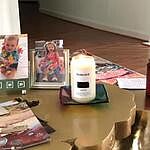 Nice candle
Review by Sean W. on 1 Jun 2020
review stating Nice candle
Nice candle
Smells great!
Review by Juliann S. on 22 May 2020
review stating Smells great!
I bought this candle for my mom and at first I wasn't sure about how I liked it but once I lit it it smelt so good. The scent is not too strong which I love.
Excellent
Review by Rachel M. on 15 May 2020
review stating Excellent
Love this candle
Brings me home
Review by Lauren B. on 14 May 2020
review stating Brings me home
Love this candle, will continue to replace it. Reminds me of home every time it burns.